Welcome
This page contains latest information about the activities and bonspiels at Quesnel Curling Centre,
Please visit our sponsor list at the bottom of this page.  They are valued contributors to our Centre, please support them.
Upcoming Events at a Glance. 

November 6th, 2023
TAKE NOTICE that the Annual General Meeting of Quesnel Curling Centre will be held on NOVEMBER 15th at 6:00PM at Quesnel Curling Centre Shot Rock Lounge. Agenda will follow. All voting members are asked to make an effort to attend.
League Schedules on the Schedule tab are now updated for the 2023-24 season.   
List of Spares is available under the Resources Tab on this page. 
Youth Curling has began at QCC for kids from 8 years to 20 years.  The group is growing and always looking for more youth to join.  Youth Curling is on Wednesdays from 3:00 pm to 5:30 pm.  8 to 11 years olds are JamCan curlers and 12 to 20 are Junior Curlers.   The Youth Curling Program is looking for Sponsors to help defer some of the costs for equipment, apparel and travel.  If you can help or have questions on this program, give Dave a call at Quesnel Curling Centre.
 If you are interested in Curling, contact the Centre or come down and have a look. Public is always welcome to visit and partake of the conssession and the Shot Rock Lounge for 19 and older.  Consider joining in no matter what your skill level.  Let have a great season of Curling!
 and be sure to choose your club through the easy drop-down menu so it will see the proceeds of your purchase. Tickets are 20 for $50, 5 for $20, or 2 for $10—the more tickets sold, the bigger the cash prize payout.
Some things to know:
2024 BC WINTER GAMES
Quesnel Curling Centre will be hosting Curling during the BC Winter Games in Quesnel on February 22nd to 25th in Quesnel.  Go to the 2024 BC WINTER GAMES tab (right beside Quesnel Curling Centre in the menu bar at top of main page) which contains all information about Curling for the Games.
QCC is looking for VOLUNTEERS for the BC Winter Games! Go to BC WINTER GAMES tab (right beside Quesnel Curling Centre in the menu bar at top of main page).  There is information and links on how to Volunteer at the Quesnel Curling Centre during the Games.  Look for to seeing you there!
Quesnel Curling Centre Facility Rental is available year  round.  The Shot Rock Lounge is great for private parties, business meeting, weddings any time.  More information is posted under the "About" tab on this site.
We also welcome any of the public to come down to the Quesnel Curling Centre.  We have a great viewing area in lobby with a concession for snacks or meals.  Great for all ages and a fun way to watch curling.   The lounge is also open from 7:30 pm to 10:30 pm for everyone 19 years and older.   The lounge is upstairs with great viewing of the ice and the players.  You are sure to never miss a shot when viewing from behind the glass.
Bonspiels will be listed below on this page and on the Schedules Tab when dates finalized.
If you are interested in Sparing
for games, let Dave at the QCC know, and your name will be added to the spare list under the
Resources
tab of this page.  If you are looking for spares, have a look at the same page.
Please support the sponsors of the Curling Centre.  Their Logos are at the bottom of this page and posted throughout the Curling Centre.  They make it possible to continue the operations at QCC.   Your patronage is important to them.   We Thank them all for their support.
Links to Other Sites
Rock Talk Website:  click on Rock Talk for all the latest curling info.
Curl BC site –  click on Curl BC to go to Curl BC
Curl Canada site –  click on Curl Canada to access the latest about Curling in Canada.
Quesnel Curling Centre Facebook page –  click on QCC facebook to access our Facebook page.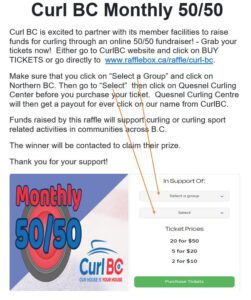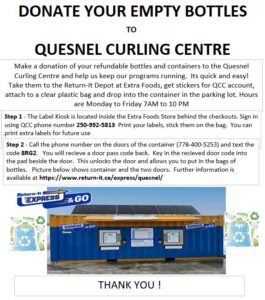 Ice Breaker Open Bonspiel  November 4 – 5, 2023
Grey Cup Open Cash Spiel November 17 – 19, 2023
Christmas Break  December 22 to January 7  QCC closed
Ladies Wheel'N Spiel and Men's Bonspiel  January 19-21, 2024 (run concurrently)
Valentines Mixed Bonspiel  February 9 – 11, 2024
Spectra Men's Bonspiel  February 16-17, 2024 – private event                                                                                       B.C. Winter Games – Curling February 22 – 25 2024
St. Patrick's Day Open Bonspiel  Mar 15 – 17, 2023
Want to Join Us?
The Quesnel Curling Centre welcomes all new curlers whether it be an individual, or a couple or a family. We offer a variety of leagues for you to choose from. Please go to Registration to discover the leagues available and, should you find a league that suits you, fill in the appropriate Registration form.