Welcome
This page contains latest information about the activities, covid procedures and bonspiels at Quesnel Curling Centre, 
Please visit our sponsor list at the bottom of this page.  They are valued contributors to our Centre, please support them.
Upcoming Events at a Glance. 

 September 28, 2020
Quesnel Curling Centre will be open October 7th to 10th between 10:00 am and 4:00 pm to allow curlers access to their lockers.   Locker access is restricted this season due to covid regulations.   This period will let you get your gear and clean out lockers for this season.   Please practice all Covid protocols regarding spacing and masks.
Curling will be starting on October 13, 2020 and running to March 14, 2021.
Dave Plant is now taking Registrations for all the leagues.  Get your team in as it will be first come, first serve.  List of Leagues is available on this site,  on the facebook page, or contact QCC office.
The new ice plant has been fired up and is working very well.  Dave has started to make ice.
The Return To Curling – A Guide For Quesnel Curling Centre has now been published.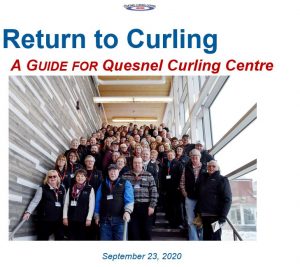 Access by clicking on the Picture  or on QCC RTC.   Please take the time to read this booklet.  There are many changes and requirements that we have never needed to deal with.  We believe it covers every aspect of what will be required to allow us to curl this season.   We ask that everyone work in the spirit of keeping the curling centre open during this period
Thank you for your patience and understanding as we organize the unprecedented changes required.
This Guidelines page of website has updated.  Dues and Fees section and the Spare List section to reflect the new guidelines laid out in the QCC Covid Booklet.
Some things to know:
MESSAGE FROM OUR PRESIDENT
Hello all, I hope this finds you and yours healthy and happy.
During these unique and challenging times, it is important to remember that we can still accomplish a lot of good by working together, being kind and staying safe.
In preparation for our return to curling this fall, we would like to keep you informed of the changes we are making and the work we are doing in light of the Return to Curling Guidelines released by Curling Canada and Curl BC. On top of this, we have created additional guidelines that will ensure a safe and secure environment for all.  It is of paramount importance that we each take the time to read, understand and follow these guidelines.  We are all responsible for not only our own safety, but for the safety and well- being of those around us. 
To be clear, these guidelines are written for PHASE 3 and we will continue to be in constant communication and update our protocols as we move forward in this ever- changing environment.
We appreciate your support and look forward to an interesting season with all of you.
Stay safe and see you soon.
 Ralph Givens
OVERVIEW
All activities in our curling centre must operate within current provincial health restrictions in order to limit the transmission of Covid-19 in our community.  These guidelines meet the criteria set out in the CurlBC—Return to Curling Guidelines and have been approved by the Quesnel curling executive, CurlBC and WorkSafe BC.  In addition to specific return to curling requirements prompted by the pandemic, Covid-19 related risk assessment, and the general public health rules and directives for the curling public, Centre operations must also address the health and safety risk issues for staff and volunteers as outlined in the viaSport Guidelines. The following sections outline measures taken for curlers and staff alike.   Click on QCC Return to Curling to go to QCC booklet explaining all requirements that will allow us to curl during this Covid period.
Links to Other Sites
Rock Talk Website:  click on Rock Talk for all the latest curling info.
CurlBC – Return to Curling:  click on Return to Curling Ver 3 to view manual dealing with requirements for Curling  in British Columbia during the Covid Crisis.
Curl BC site –  click on Curl BC to go to Curl BC
Curl Canada site –  click on Curl Canada to access the latest about Curling in Canada.
Quesnel Curling Centre Facebook page –  click on QCC facebook to access our Facebook page.
Ice Breaker Bonspiel  CANCELLED
Grey Cup Cash Spiel Nov 20-22/20
Valentines Mixed Bonspiel  Feb 12-14/21
St. Patricks Day Open Bonspiel  Mar 12-14/21
Ice Breaker Bonspiel  CANCELLED
Grey Cup Cash Spiel Nov 20-22/20
Ladies Wheel n Spiel January 22 – 24/21
Valentines Mixed Bonspiel  Feb 12-14/21
St. Patricks Day Open Bonspiel  Mar 12-14/21
Ice Breaker Bonspiel  CANCELLED
Grey Cup Cash Spiel Nov 20-22/20
Valentines Mixed Bonspiel  Feb 12-14/21
St. Patricks Day Open Bonspiel  Mar 12-14/21
Want to Join Us?
The Quesnel Curling Centre welcomes all new curlers whether it be an individual, or a couple or a family. We offer a variety of leagues for you to choose from. Please go to Registration to discover the leagues available and, should you find a league that suits you, fill in the appropriate Registration form.