Welcome
This page contains latest information about the activities, covid procedures and bonspiels at Quesnel Curling Centre, 
Please visit our sponsor list at the bottom of this page.  They are valued contributors to our Centre, please support them.
Upcoming Events at a Glance. 

 November 12, 2021
The Grey Cup Bonspiel has now registered a full compliment of teams! Registration is now closed. Dave has a standby list in cause someone drops out. Thank you everyone for the enthusiasm that our group has for this bonspiel. It should be a great event. You are still welcome to come down as a spectator and watch the game from the Lounge. We all know we curl our best game from that side of the glass anyway. Everyone must have proof of vax and wear masks while moving around at Quesnel Curling Centre. Priority seating will be given to teams coming off the ice in the Lounge as our seating capacity is limited to 70 people.
Thank you to everyone for your support of our Centre.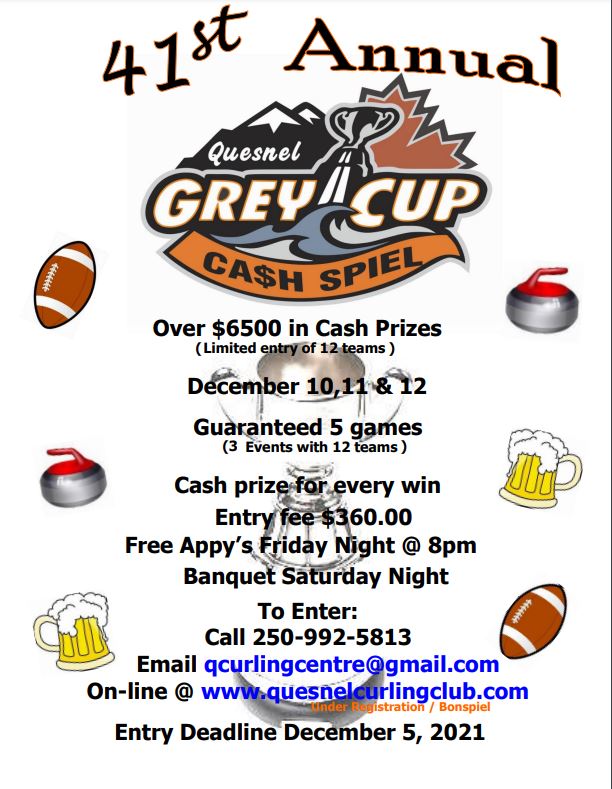 QCC is hosting Doubles Curling
on Sunday's at 10:00 AM. There is a signup sheet for individuals posted on the notice board at the centre. The signup is for individuals but you can indicated if you wish to sign up as a team. Please sign up early as Dave needs to know if there is an interest before he preps the ice. This is for all experience levels. If enough interest is generated, this may become a regular event on Sundays.
Bonspiels are listed below on this page and on the Schedules Tab.  QCC is looking for an organizer for the Mixed Bonspiel on February 11 -13.  Please let Dave know if you or your team will step forward to organize this bonspiel.
If you are interested in Sparing
for games, let Dave at the centre know and your name will be added to the spare list under the
Resources
tab of this page.  If you are looking for spares, have a look at the same page.
QCC CHRISTMAS BREAK –  No Leagues December 20 2021 to January 2 2022
QCC Elementary School Program has been cancelled for the 2020-21 season due to covid regulations.
Some things to know:
MESSAGE FROM OUR PRESIDENT
Hello all, I hope this finds you and yours healthy and happy.
During these unique and challenging times, it is important to remember that we can still accomplish a lot of good by working together, being kind and staying safe.
In preparation for our return to curling this fall, we would like to keep you informed of the changes we are making and the work we are doing. On top of this, we have created additional guidelines that will ensure a safe and secure environment for all.   We are all responsible for not only our own safety, but for the safety and well- being of those around us. 
To be clear, we will continue to be in constant communication and update our protocols as we move forward in this ever- changing environment.
We appreciate your support and look forward to an interesting season with all of you.
Stay safe and see you soon.
 Ralph Givens
OVERVIEW
All activities in our curling centre must operate within current provincial health restrictions in order to limit the transmission of Covid-19 in our community.  
All persons, including children, entering the Quesnel Curling Facility will be required to show proof of Vaccination and personal ID.   Masks will be worn in entrance, foyer, lobby, stairwells, locker room and Lounge.  Masks can be removed once seated at tables in the Lounge.   We have a maximum seating of 70 people.  Lockers will be available for use.   Masks are not required on the ice surface.  Two sweepers are allowed.   Basically normal curling conditions.
Links to Other Sites
Rock Talk Website:  click on Rock Talk for all the latest curling info.
Curl BC site –  click on Curl BC to go to Curl BC
Curl Canada site –  click on Curl Canada to access the latest about Curling in Canada.
Quesnel Curling Centre Facebook page –  click on QCC facebook to access our Facebook page.
Registration for the Grey Cup Bonspiel is now closed as we have reached our limit of teams.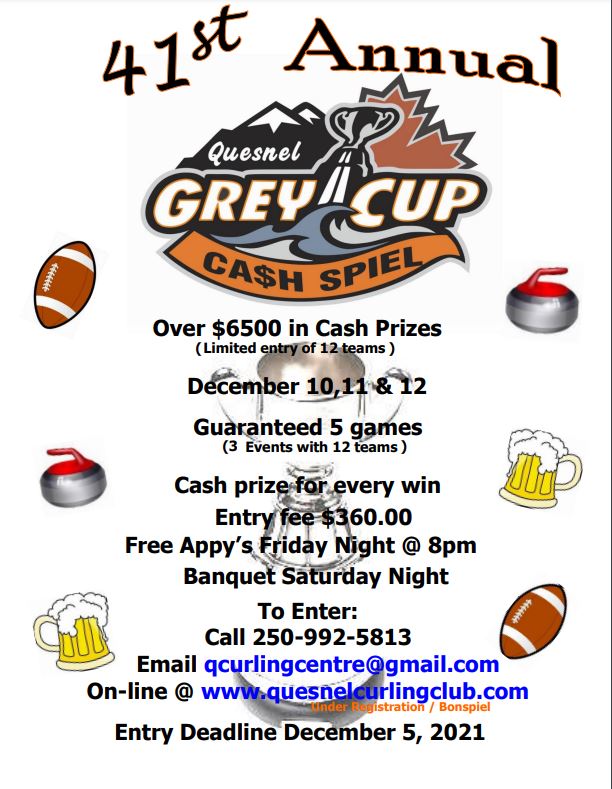 Ice Breaker Open Bonspiel  November 6 to 7, 2021
Grey Cup Open Cash Spiel December 10 – 12, 2021
Wheel'n Spiel Ladies Bonspiel  January 28 – 30, 2022
Embridge Ladies Bonspiel February 4 – 5, 2022  –  Private Function
Valentines Mixed Bonspiel  February 11 – 13, 2022
Embridge Men's Bonspiel Feb 18 – 19, 2022 – Private Function
St. Patricks Day Open Bonspiel  Mar 18 – 20, 2022
Want to Join Us?
The Quesnel Curling Centre welcomes all new curlers whether it be an individual, or a couple or a family. We offer a variety of leagues for you to choose from. Please go to Registration to discover the leagues available and, should you find a league that suits you, fill in the appropriate Registration form.