Welcome to 2024 BC Winter Games – Curling Page (scroll down for more info)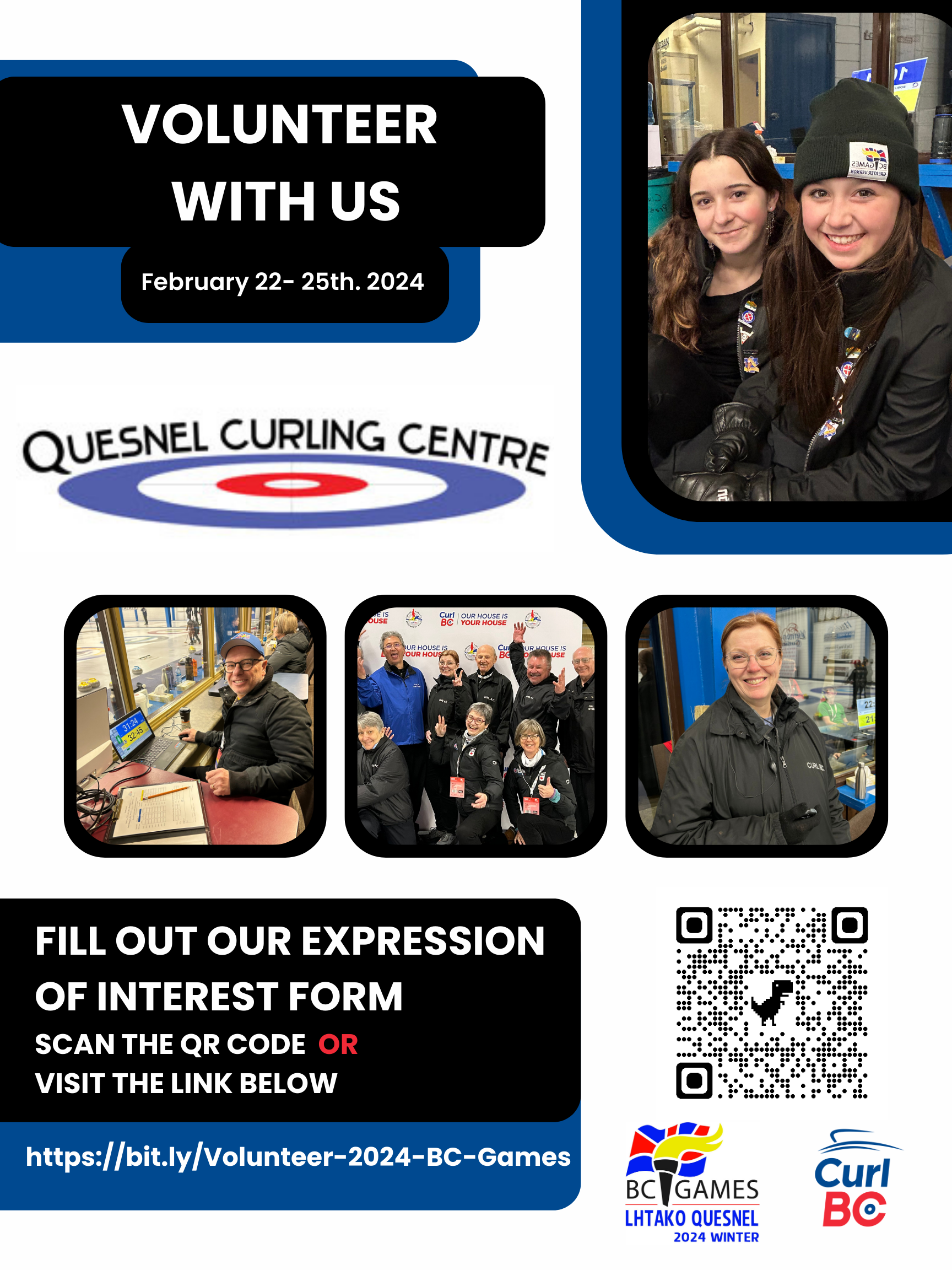 Volunteering for Curling for the 2024 Lhatko Quesnel BC Winter Games
Hello everyone, Blair Hedden here. I am the Sport Chair for Curling for the games and want to outline the volunteer positions we are looking to fill for the games.  Organizing and executing a curling event such as this requires a significant amount of people; we did it in 2019 for the BC Mens/Women Provincials so let's do it again for the kids at the 2024 BC Winter Games.  Please volunteer for curling if you can and help make this the best BC Winter Games ever.  We Got This! 
You can find a poster with a QR code and link to an Expression of Interest form posted on the QCC website and Quesnel Curling Centre Facebook page.  Please fill out the expression of interest form and we will contact you to ensure you get to work in your area of choice.
As well I can be contacted to sign up for any of the positions or committees below as well as to answer any questions you may have: 250 991-6648 or blairhedden63@gmail.com.
Everyone will also have to register as a volunteer with the Winter Games via https://bcgames.org/games/bc-winter-games/volunteers/.  At this time WG registration form doesn't have a choice specifically to help with the curling so fill it in the best you can and be sure to let me know through the above methods so I can  let the games volunteer director know that you are working with the curling team.
Here are the areas we are looking for help with:
Officiating – Committee Chair
2-3 Key and scheduling
Also the following amounts of volunteers per draw are required (total of 6 draws about 100 shifts to fill over three days Fri, Sat, Sun):
6 game Timers*
2 result/playdowns.com/standing/playoff board updaters (local)**
6 – Level 2 timing and on ice supervisors (Local and through Curl BC)***
Umpires (through Curl BC)
* For Timers there is no officiating certification requirement.  Training will be provided free of charge and practice times will be made available leading up to the games.
**No experience required for results/updating positions – training provided
***Local Level 1 certified officials can be level 2 supervisors for the event to further their officiating credentials
Live Streaming – Committee Chair
1 or 2 key volunteers to help with recruitment and scheduling
I Pad Operators – up to 2-3 per draw
Mobile Live Streaming Unit (if used)
1 person to move camera angles & 1-2 commentators
Local individuals for commentators if available
Ceremonies (Opening, Medals, Sportsmanlike,…) – Committee Chair
2-6 additional key volunteers
Coordinate opening ceremony (very short)
Eg. Arrange piper; set up podium, PA system, speaker(s) to welcome athletes …..
Coordinate sportsmanlike award presentation
Coordinate medal ceremonies at event
 Facilities Coordinator – Committee Chair
2-3 Key Volunteers to assist organization
8-12 additional volunteers for event
Set up/Tear down (Wed afternoon/Sunday afternoon)
coordinate coffee, snacks and lunches as required for volunteers/coaches/officials
Arrange Concession and meal vouchers with vendor
Distribute meal vouchers
Solicit snack donations (eg.  QCC members baking/ donations)
Assign lockers to teams
Venue control during competition